Paint & Sip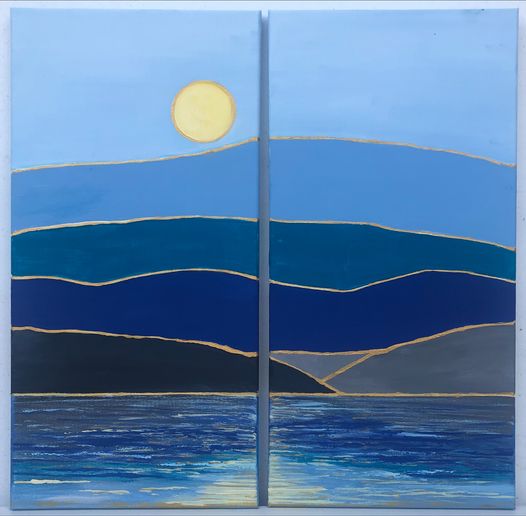 PAINT & SIP – the Valentine's Day Edition is a great stress-free Valentine's Day together activity for couples (or 2 friends and even a singles option is available). It's a lot more fun than waiting for a table and a rushed meal at a restaurant in town.
Enjoy a fun evening beginning at 6PM on Tuesday, 14 February, with your talented and charming artist and instructor, Holly Loving, painting a contemporary meets impressionism diptych (2 canvases) of the lake. It is painted by two artists on two canvases that when combined together form a work of art. It's great for a couple's painting night. Alternatively, a single painter can paint one canvas and the artwork can stand on its own. Even better, it's a painting of the lake that uses a little gold paint which just gives it a little more "pizazz!"
This special offer includes all the needed painting materials to include the two 12″x16″ canvas ~ AND ~ a bottle of wine (or 4 beers), a charcuterie board with cheese, meat, nuts, and crackers and two chocolate covered strawberries.
The Lakeside Bar and Grill will be open just for class participants for this special evening.
Your reservation is confirmed by your payment of $100. Please e-mail info@mountainlakeclub.com with your request for an online payment invoice to pay for your seats in the class via our Quickbooks payment system. Also, you can stop by the Mountain Lake Club during open hours if you want to pay by cash, check, or with a credit card in person.
This class is limited to 28 artists and is less that a week away.
Don't delay reserving your seat!
Related Events